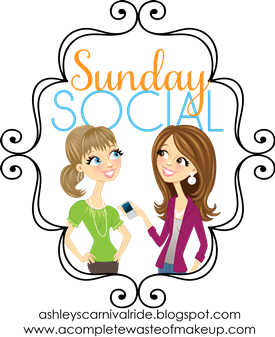 I am now going to start doing Sunday Social, brought to you by
Ashley Lately
Before I begin, hope everyone is having a wonderful weekend! The cold I had seemed to have settle in my ear, but did not stop me from enjoying my son's 6th birthday party. Check out this adorable cake that a dear friend of mine made for him :)
Kody loves anything to do with firefighting! We chose to have Sabine put on it because not only does his uncle by heart work there, but Kody wants to grow up and be a part of Sabine Volunteer Fire Dept.
Now, onto the Sunday Social Q&A:
What is your ideal way to relax?
I have several ways I like to relax. Whenever my husband is at work and the boys are at school, I turn up our radio and listen to Pink. I always find her music to be fun and motivating. As the music plays, I will often edit photos that need it or just need to be redone. Sometimes, I will play around on Facebook.
Who do you consider your biggest role model?
My older sister "K", most definitely. She is a strong, independent, and focused person. K is a devoted mom and wife, who is always about putting her family first. She has endured many obstacles in her life, but she refuses to have any self-pity. When I need advice, she is my go to person because she will tell it like it is.
Where is your favorite place to be?
Galveston! We visited for the first time nearly a year ago, and I long to go back. I love the old history of the downtown area. It was great being able to browse the shops. I highly recommend the salt water taffy from La King Confectionery! And, of course the beach. If I could, I would sit and watch the waves for hours.
What does your life look like in 3 years?
Hmmm....I'm not really sure, but I don't think anyone is 100% certain. I definitely see myself still doing the photography. Hoping this house can be renovated some more at that point, and would love to be able to add on another room.
If you could go back and change one decision, what would it be?
I rather not look back and wish I made a different decision. It really don't fix anything that is in the present. Instead, I try to think a little more before I react.
What is your biggest accomplishment in life so far?
Being a mother! I am raising two little men to be respectful and to always try their hardest. Teaching them they will always have their daddy and me to come to for advice, help, and love.